A drowning detection system for any pool
SwimEye is a Computer vision system for the detection of drowning accidents in swimming pools.  It works like an "extra lifeguard" under the water of your pool. 
Our object recognition software tracks the movements of swimmers and in the event of a serious drowning incident, SwimEye will help improve the reaction time of lifeguards in the event of a rescue. 
SwimEye is an autonomous Computer Vision Detection System that works as an "extra lifeguard".
SwimEye can be customized to suit any client preferences, cultural sensitivities, or local regulations.
 Each of our accessory alert products can be seamlessly integrated into your SwimEye system.
We can provide technical assistance and engineering support during swimming pool and facility design.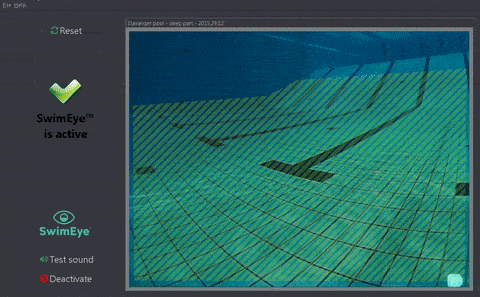 Our under-water cameras monitor, track and record swimmer's actions and movement. This information is relayed back to the Computer Vision Detection System for automatic analysis. When SwimEye detects a swimmer in distress on the bottom of the pool, it will raise an electronic alarm to pool lifeguards and to our monitoring & control station.  Lifeguards can visually assess the developing situation within seconds of the event occurring.
Our cameras can achieve 100% visual coverage of your pool
(ISO standards require 80% minimum).
Secure and customizable to be compliant with regional data protection and privacy regulations.
SwimEye is suitable for any swimming pool type, new or existing, any construction material, and all shapes and sizes.
We will deliver the absolute best-quality products, software, sales-support, service and maintenance.
Safety comes first with SwimEye!
 What's Happening at SwimEye?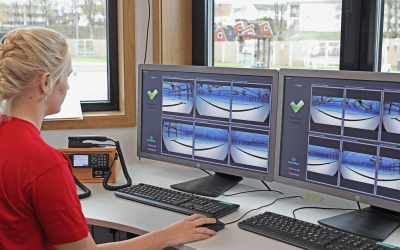 At SwimEye headquarters, we get this question a lot.  "Does SwimEye use Wi-Fi for swimming pool computer vision systems." And "can SwimEye be used on our mobile devices?"  Sound great, right?   However, the short answer is no, SwimEye is not 'mobile'.  At SwimEye, we...
Quite nice to be home in Norway today, after spending a busy but rewarding few days at Interbad 2018, Stuttgart. Interbad is one of the world's largest aquatic and leisure trade fairs, which once again proved to be an excellent event. SwimEye attended and exhibited...
Having recently come from the Australian construction industry, I was confident that I would quickly understand the SwimEye products.  Cameras, cables, control boxes, network switches and computers.  Add some unique software and you have autonomous, under-water CCTV...
SwimEye confirms that on 15 October 2018, a potentially serious drowning incident occurred at a customer location in Norway.  Thankfully the swimmer was successfully rescued from the bottom of the pool. The swimmer made a short visit to the hospital for observation...
Want to know more about SwimEye?